If you want to check Durg University Result, it means you have taken the Durg University (Hemchand Yadav Vishwavidyalaya, Durg) exam then, this post can be helpful for you. This post will guide you on how to check your durg university result for any course.
Step-by-Step Guide on How to Check Durg University Result
Step 1. Visit the Official Result Page
First of all, visit Durg University's official result page.
Here you can go > https://durg.ucanapply.com/smartexam/public/
Step 2. Go to the Result List Page
On that page, you need to click on the result link as shown in the above figure. (Click here to see results details).
Here you can go > https://durg.ucanapply.com/smartexam/public/result-details
Step 3. Choose Your Course
Here you need to carefully select the course for which you have taken the exam. the result list will be shown as shown in the above figure if it is declared.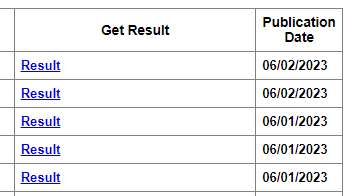 Step 4. Click on the Result Link
Just behind the exam/class/course name, you can see the result link (in blue color) under the get result column with the publication date. Please click on the result link (blue colored) respectively available for which course you want to see the result.
Step 5. Enter the Roll Number & Get the Result
By clicking the result link you will be redirected automatically to a new page, where you can enter the roll number and then click on the search result button (yellow colored).
Now, your result will be shown on your screen, you can take a screenshot of it, or you can print it as PDF.
Continue reading to know how to take print as PDF from your smartphone.